Ethyl Linalool
Synthétique
CAS N° :
10339-55-6
Floral > Fresh Flowers > Zesty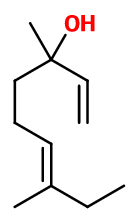 Crédits photo: ScenTree SAS
Other names :

(6E)-3,7-dimethylnona-1,6-dien-3-ol ; Homolinalool ; Ethyllinalool ; 3,7-dimethyl-1,6-nonadien-3-ol
Volatility :

Head/Heart
Uses in perfumery :
Natural availability :

Ethyl Linalool is not available in its natural state.
Year of discovery :

Data not available.
Other comments :
Price Range :

€€€
Stability :

Exclusively stable in shampoo, hair conditioner and in soaps.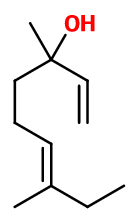 Crédits photo: ScenTree SAS
Molecular formula :

C11H20O

Molecular Weight :

168,28 g/mol

Density :

0,862

Flash Point :

86°C

Fusion Point :

Donnée indisponible.
Appearance :

Colorless liquid

Log P :

3,3

Boiling Point :

215°C

Detection Threshold :

4,2518 ng/l
Synthesis route :
Synthesis precursor :
Isomerism :

Ethyl Linalool has an asymmetric carbon and a double bond capable of forming enantiomers and diastereoisomers. It is however a mixture of isomers that is used in perfumery. Aldehyde C-11 Undecylenic is a constitutional isomer of Ethyl Linalool. However, it has a much more aldehydic and less floral smell.
EINECS number :

233-732-6

FEMA number :

Donnée indisponible.

JECFA number :

Donnée indisponible.

FLAVIS number :

Donnée indisponible.

Allergens :

This ingredient does not contain any allergen.

IFRA :

This ingredient is not restricted
To learn more about IFRA's standards : https://ifrafragrance.org/safe-use/library
ScenTree is solely responsible for the information provided here.
Do you sell any of the raw materials? Would you like to let our users know?
Send an email to fournisseurs@scentree.co to learn about our advertising opportunities.