CAS N° :
101-84-8
Green > Crisp Green > Rosy > Metallic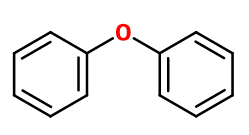 Crédits photo: ScenTree SAS
Other names :

Phenoxybenzene ; 1,1-oxybis benzene ; Biphenyl oxide ; Diphenyl ether ; Geranium crystals ; Phenyl ether ; Phenyl oxide
Volatility :

Heart
Uses in perfumery :

Diphenyl Oxide is used in all types of perfumes, for reconstitutions of rose, geranium and lavender. Gets on well with citruses to boost the head and make the note last longer. Gives a metallic and cold effect. Widely used in functional perfumery.
Natural availability :

Diphenyl Oxide is not available in its natural state.
Year of discovery :

Data not available.
Other comments :

In comparision to Benzophenone, Diphenyl Oxide has a smell more reminiscent of plastic.
Price Range :

€
Stability :

Stable in perfumes and diverse functional bases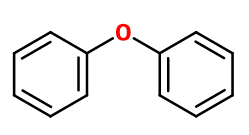 Crédits photo: ScenTree SAS
Molecular formula :

C12H10O

Molecular Weight :

170.21 g/mol

Density :

1.073

Flash Point :

239°F (115°C)

Fusion Point :

80.6°F (27°C)
Appearance :

Colorless liquid that crystallizes at room temperature

Log P :

4.21

Boiling Point :

498.2°F (259°C)

Detection Threshold :

Data not available.
Synthesis route :

Diphenyl Oxide is synthesized as an intermediate in the synthesis of phenol. This synthesis is done by hydrolysis of chlorobenzene under a very high pressure.
Synthesis precursor :

Diphenyl Oxide is not a precursor to the synthesis of another compound of olfactory interest.
Isomerism :

Oranger Crystals® is a constitutional isomer of Diphenyl Oxide although it does not have the same smell, as it is closer to orange blossom.
EINECS number :

202-981-2

FEMA number :

3667

JECFA number :

1255

FLAVIS number :

04.035

Allergens :

This ingredient does not contain any allergen.

IFRA :

This ingredient is not restricted
To learn more about IFRA's standards : https://ifrafragrance.org/safe-use/library
ScenTree is solely responsible for the information provided here.
Do you sell any of the raw materials? Would you like to let our users know?
Send an email to fournisseurs@scentree.co to learn about our advertising opportunities.