Delta-Undecalactone
Synthétique
CAS N° :
710-04-3
Fruity > Lactonic > Yellow Fruits > Coconut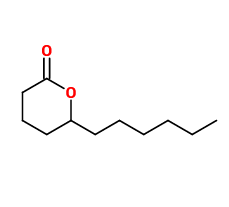 Crédits photo: ScenTree SAS
Other names :

δ-hexyl valerolactone ; 5-Undecanolide ; 6-Hexyltetrahydro-2H-pyran-2-one
Volatility :

Base
Uses in perfumery :

Used to bring creamy facets to reconstituted vanilla, coconut or gardenia.
Natural availability :

Data not available.
Year of discovery :

Data not available.
Other comments :

Data not available.
Price Range :

€€€€
Stability :

Lactones tend to polymerize through time, making them more viscous and leading to a phase shift in alcohol.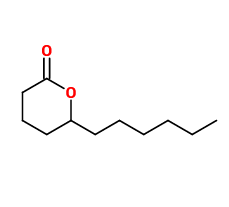 Crédits photo: ScenTree SAS
Molecular formula :

C11H20O2

Molecular Weight :

184,28 g/mol

Density :

0,958

Flash Point :

155°C

Fusion Point :

Donnée indisponible.
Appearance :

Colorless liquid

Log P :

3,06

Boiling Point :

298,4 °C

Detection Threshold :

Donnée indisponible.
Synthesis route :

Delta-Undecalactone can be synthesized by an oxidation reaction of 2-hexylcyclopentanone, using a peracid.
Synthesis precursor :

Delta-Undecalactone is not a precursor to the synthesis of another compound of olfactory interest.
Isomerism :

Delta-Undecalactone has an asymetric carbon. Nevertheless, we always use its racemic mixture in perfumery. Delta-Undecalactone is an isomer of C14 Aldehyde, which has one less carbon atom into its ring, but one more in its ramified carbon chain. The resulting odor changes from a metallic peach and coconut odor to a fruity peach odor
EINECS number :

211-915-1

FEMA number :

3294

JECFA number :

234

FLAVIS number :

10.011

Allergens :

This ingredient does not contain any allergen.

IFRA :

This ingredient is not restricted
To learn more about IFRA's standards : https://ifrafragrance.org/safe-use/library
ScenTree is solely responsible for the information provided here.
Do you sell any of the raw materials? Would you like to let our users know?
Send an email to fournisseurs@scentree.co to learn about our advertising opportunities.