CAS N° :
23696-85-7
Fruity > Berries > Rosy > Musky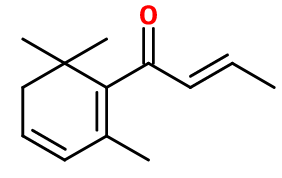 Crédits photo: ScenTree SAS
Other names :

Fermentone® ; Floriffone® ; Roastarome® ; Rosenone® ; 1-(2,6,6-Trimethylcyclohexa-1,3-dienyl)-2-buten-1-one ; Rose ketone-4 ; 2-Buten-1-one, 1-(2,6,6-trimethyl-1,3-cyclohexadien-1-yl)
Volatility :

Heart/Base
Uses in perfumery :

Damascenone is used, like most rose ketones, to bring a delicate rose undertone. In a floral composition, this ingredient will bring naturality and volume. It also allows to work on the maturity grade of the fruit by bringing a candied and cooked apple facet. Finally, it is very important to highlight that IFRA guidelines strongly regulate the use of rose ketones. Therefore, their use is very limited and will probably reach zero in the coming years.
Natural availability :

Data not available.
Year of discovery :

First rose ketones were discovered in 1965, by chemists P. Ruzicka and Dr. Demole, by analyzing Damask Rose Absolute. This opened the way to synthesize a major molecule category of the perfume industry.
Other comments :

Damascenone is part of one of the most important chemical family used in fragrance industry, the ''rose ketones ''. This family is filled by many famous compounds : Damascenone-Beta® ; Damascenone-Alpha® ; Damascone-Beta® ; Damascone-Alpha® ; Damascone-Gamma®.
Price Range :

€€€€
Stability :

Stable in perfumes and diverse functional bases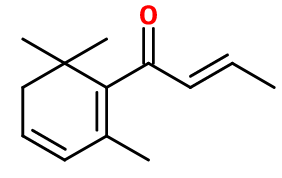 Crédits photo: ScenTree SAS
Molecular formula :

C13H18O

Molecular Weight :

190,29 g/mol

Density :

0,946 - 0,952 @20°C

Flash Point :

>100°C (>212°F)

Fusion Point :

Donnée indisponible.
Appearance :

Colorless to pale yellow liquid

Log P :

3,33

Boiling Point :

Donnée indisponible.

Detection Threshold :

Donnée indisponible.
Synthesis route :

Damascenone is part of the ''rose ketones '' family, present in a small amount in Damask Rose Absolute, while playing an important role in their smell. Rose ketones are synthesized from the appropriate derivative of cyclogeranic acid (ester, halide, ...). A reaction of this derivative with an allyl magnesium halide followed by a pyrolysis, allows to obtain the desired compound by rearranging the double bond of the branched chain.
Synthesis precursor :

Damascenone-Beta® is not a precursor to the synthesis of another compound of olfactory interest.
Isomerism :

Damascenone is a mixture of two enantiomers. There is Damascenone-Beta® and Damascenone-Alpha®. Their smell are similar but the location of the double bonds in the ring is not the same (1,3 positions for Damascenone-Beta® and 2,4 positions for Damascenone-Alpha®).
EINECS number :

245-833-2

FEMA number :

3420

JECFA number :

387

FLAVIS number :

07.108

Allergens :

This ingredient does not contain any allergen.

IFRA :

This ingredient is not restricted
To learn more about IFRA's standards : https://ifrafragrance.org/safe-use/library
ScenTree is solely responsible for the information provided here.
Do you sell any of the raw materials? Would you like to let our users know?
Send an email to fournisseurs@scentree.co to learn about our advertising opportunities.