Cubeb pepper CO2
Naturelle
CAS N° :
90082-59-0 // 8007-87-2
Spicy > Warm Spices > Dry Woods > Cedar > Agrestic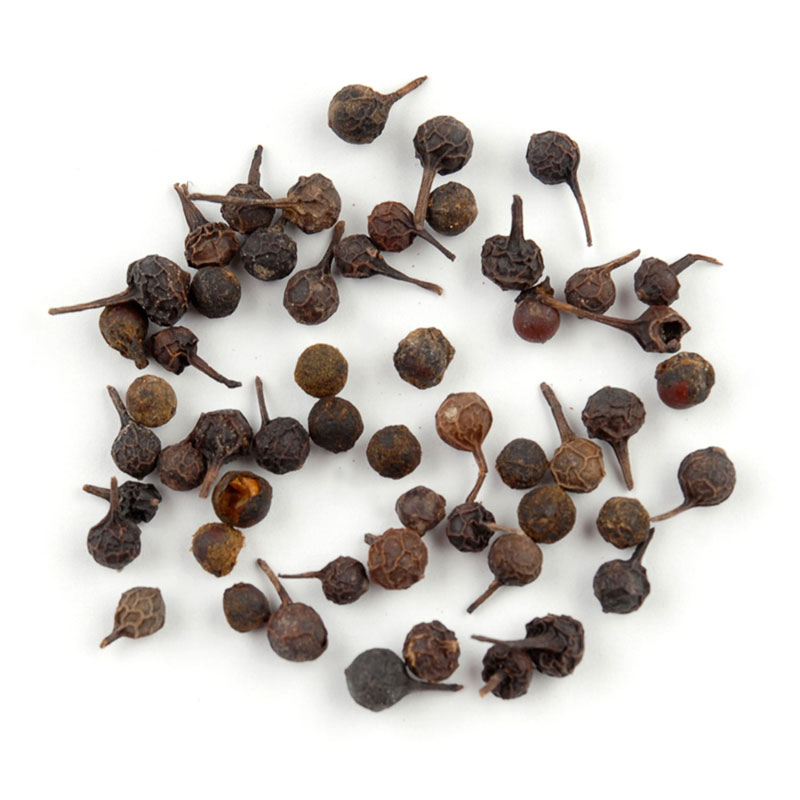 Crédits photo: ScenTree SAS
Latin name :

Piper cubeba
Botanical profile :

Cubeb pepper is the berrie of a scrub belonging to the Piperaceae family and to the piper genus.
Geographic origin :

Cubeb pepper tree is indigenous to Indonesia. It is also possible to find it in Malaysia or India, where it is mainly cultivated for its leaves and dried fruits.
Chemotypes :

There are many species of pepper (Piper), cultivable for perfume or not:
Piper nigrum (Black Pepper EO) - Classic pepper, worldwidely famous for its spice
Piper betel (Betel leaf EO) - From south east Asia, known for the medicial properties of its leaves.
Piper cubeba (Cubeb pepper Absolute - Cubeb pepper CO2 - Cubeb pepper EO) Cubeb pepper, or ''tailled pepper ''
Piper umbellatum - Cow foot leaf , native to the Amazon.
Piper guineense - Guinea pepper, rich in myristicin.
Piper bourbonense - Bourbon pepper, from Madagascar.
Piper longum - Long pepper, used in Ayurvedic (Indian) medicine.
Piper longifolium - Long-leaved pepper.

There are also fake peppers:
Cubeba officinalis - whose leaves are distilled.
Pimenta dioica - Jamaican pepper or All Spice EO.
Zanthoxylum armatum - Sichuan Pepper Absolute.
Capsicum frutescens - Cayenne pepper.
Extraction process :

Cubeb pepper tree is a climbing plant that can reach 5 to 15m. It grows mainly in Southeast Asia. This plant is particularly valued for its leaves and berries. The berries are harvested by hand between May and June. This harvest is difficult because the tree climbs regularly on other trees and can thus reach important heights. Berries are then dried and crushed before being used.

At this stage a large part of the production is used as spice. However, a small amount is extracted for perfumery according to the different current practices of our industry.
It is therefore possible to make hydrodistillation on the crushed berries, obtain the Cubeb pepper EO. (close to 10% yield)
If berries are extracted with volatile solvent (mainly hexan), we obtain the Cubeb pepper Absolute and finally, it is also possible to make a CO2 extraction on this ingredient. We then obtain Cubeb pepper CO2.
The most common way of extraction is hydrodistillation.
Major Components :

Data not available.
Crédits photo: ScenTree SAS

Uses in perfumery :

Data not available.

Other comments :

The main difference between cubeb pepper and other pepper is the tail. In fact, cubeb pepper has a little tail on the top of the berrie. That's why it is named ''tailled pepper ''.

Volatility :

Head/Heart

Appearance :

Light brown liquid

Stability :

Price Range :

€

Aromatherapy :

Informations provided below are taken from reference works in aromatherapy. They are given for information purposes only and can not constitute medical information, nor engage the responsibility of ScenTree.

Data not available.
EINECS number :

290-148-4

FEMA number :

2339

Allergens :

This ingredient does not contain any allergen.

IFRA :

This ingredient is not restricted
To learn more about IFRA's standards : https://ifrafragrance.org/safe-use/library
ScenTree is solely responsible for the information provided here.