Cis-3-Hexenyl Benzoate
Naturelle - Synthétique
CAS N° :
25152-85-6
Floral > White Flowers > Salicylic > Cut Grass > Leather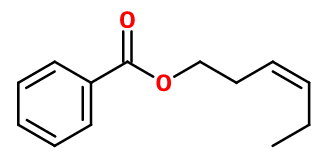 Crédits photo: ScenTree SAS
Other names :

Pipol Benzoate ; Hex-3-enyl benzoate ; Hex-3-en-1-yl benzoate
Volatility :

Head/Heart
Uses in perfumery :

Cis-3-Hexenyl Benzoate is used in floral fragrances, in white flowers accords (jasmine, ylang-ylang), floral-green, fresh notes. Also used in pear and apple notes to bring a floral facet, quite fat and juicy. Used in jasmine or gardenia floral accords, for example, to add naturalness (flower stalk effect). Also used in fruity notes. Mainly used in fine fragrance.
Natural availability :

Cis-3-Hexenyl Benzoate is present in Grandiflorum Jasmine Absolute in particular, from which it can be extracted in its natural state by fractional distillation. Also present in Sambac Jasmine Absolute.
Year of discovery :

Data not available.
Other comments :

Compared with Cis-3-Hexenyl Salicylate, the latter is more likely to be a reference for a solar and green note for perfumes, as Cis-3-Hexenyl Benzoate also has a leather undernote.
Price Range :

€€€
Stability :

Can form benzoic acid through time.
Most of the time, the occurrence of a benzenic cycle in a molecule causes a coloration of this molecule through time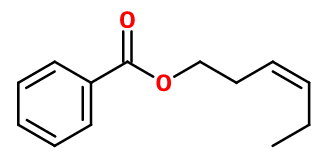 Crédits photo: ScenTree SAS
Molecular formula :

C13H16O2

Molecular Weight :

204,27 g/mol

Density :

1,002

Flash Point :

110°C

Fusion Point :

Donnée indisponible.
Appearance :

Colorless liquid

Log P :

4,3

Boiling Point :

105°C (à 1hPa)

Detection Threshold :

Donnée indisponible.
Synthesis route :

Cis-3-Hexenyl Benzoate results from the esterification reaction between benzoic acid and cis-3-Hexenol, by acid catalysis.
Synthesis precursor :

Cis-3-hexenyl benzoate is not a precursor to the synthesis of another compound of olfactory interest.
Isomerism :

The use of trans-3-Hexenol for the synthesis of trans-3-Hexenyl Benzoate leads to a product with similar olfactory characteristics, but it is much less used in perfumery than cis-3-Hexenyl Benzoate. Moreover, cis-3-Hexenyl Benzoate always contains a trace of trans-3-Hexenyl Benzoate.
EINECS number :

246-669-4

FEMA number :

3688

JECFA number :

858

FLAVIS number :

09.806

Allergens :

This ingredient does not contain any allergen.

IFRA :

This ingredient is not restricted
To learn more about IFRA's standards : https://ifrafragrance.org/safe-use/library
ScenTree is solely responsible for the information provided here.
Do you sell any of the raw materials? Would you like to let our users know?
Send an email to fournisseurs@scentree.co to learn about our advertising opportunities.