Cinnamyl acetate
Naturelle - Synthétique
CAS N° :
103-54-8
Floral > Rosy > Cinnamic > Medicinal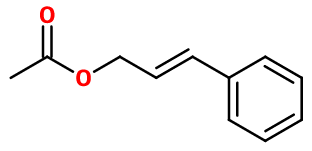 Crédits photo: ScenTree SAS
Other names :

3-phenyl-2-propen-1-yl acetate ; 1-acetoxy-3-phenyl-2-propene ; 3-phenyl allyl acetate ; Gamma-phenyl allyl acetate
Volatility :

Heart
Uses in perfumery :

Cinnamyl acetate is used in reproductions of hyacinth, rosy and woody-spicy notes, to provide a green and balsamic effect.
Natural availability :

Cinnamyl acetate can be found in small quantity in some plant extracts such as Ylang-Ylang Extra EO (and other ylang fractions), Laurel EO and Cinnamon Leaf EO, as well as Narcissus Absolute, among others.
Year of discovery :

Data not available.
Other comments :

Cinnamyl acetate is an ester obtained from Cinnamyl Alcohol, rather than cinnamic acid, as it is the case for compounds called Cinnamates.
Price Range :

€€
Stability :

Esters my form their corresponding acid under the effect of heat.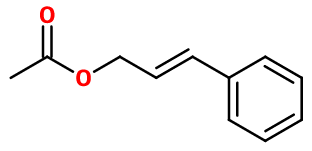 Crédits photo: ScenTree SAS
Molecular formula :

C11H12O2

Molecular Weight :

176,22 g/mol

Density :

1,053

Flash Point :

118°C

Fusion Point :

Donnée indisponible.
Appearance :

Colorless liquid

Log P :

2,9

Boiling Point :

264°C

Detection Threshold :

Donnée indisponible.
Synthesis route :

Cinnamyl acetate is synthesized by an esterification reaction between Cinnamyl Alcohol and acetic acid. This reaction is catalyzed by the presence of a small quantity of a strong acid such as sulphuric acid. In addition, the yield of this reaction can be improved by the use of acetic anhydride or chloroacetic acid, rather than acetic acid.
Synthesis precursor :

Cinnamyl acetate is not a precursor of the synthesis of another compound of olfactive interest.
Isomerism :

Cinnamyl acetate has two diastereoisomers, due to the presence of a double bond in its structure. The (E) isomer of Cinnamyl acetate has an even sweeter smell than the (Z) isomer. Anyway, both have a similar smell, which explains the use of a racemic mixture of the two isomers in perfumery.
EINECS number :

203-121-9

FEMA number :

2292

JECFA number :

650

FLAVIS number :

09.018

Allergens :

This ingredient does not contain any allergen.

IFRA :

This ingredient is restricted by IFRA

This ingredient is not restricted for the 48th amendment
To learn more about IFRA's standards : https://ifrafragrance.org/safe-use/library
ScenTree is solely responsible for the information provided here.
Do you sell any of the raw materials? Would you like to let our users know?
Send an email to fournisseurs@scentree.co to learn about our advertising opportunities.