CAS N° :
28940-11-6
Marine > Oceanic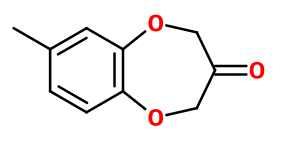 Crédits photo: ScenTree SAS
Other names :

Aquamor® ; Ganone® ; Calone 161® ; 8-methyl-1,5-benzodioxepin-3-one ; 7-methyl-1,5-benzodioxepan-3-one ; Oceanone ; Oceone ; Ozonor ; Watermelon ketone
Volatility :

Base
Uses in perfumery :

Calone® is used in fresh, floral, white flower, spring and marine notes.
Natural availability :

Calone® is not available in its natural state.
Year of discovery :

Discovered in 1966 by Pfizer company. Patent N°3,517,031 (US) published on Aug. 15, 1966 by Beeredoo.J, Old Lyme, Cameron.P, Stephens.C for Pfizer&Co.,Inc.
Other comments :

The olfactory perception threshold of Calone® is equivalent to 31 picograms / litre, that is to say a grain of salt in an Olympic pool. However, it is less powerful than Azurone®, another molecule with a marine smell.
Calone® was the initiator of the aquatic scents trend during the 90's, embodying a trend of perfumes far from the skin and closer to nature.
Its production is around 30 tons / year.
Price Range :

€€€
Stability :

Tends to get coloured under heat. Its smell can also change through an alcoholic maceration time.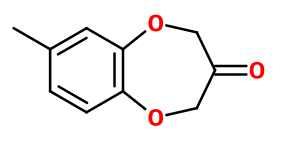 Crédits photo: ScenTree SAS
Molecular formula :

C10H10O3

Molecular Weight :

178.18 g/mol

Density :

1.1

Flash Point :

201.2°F (94°C)

Fusion Point :

102.2°F (39°C)
Appearance :

White solid

Log P :

1.95

Boiling Point :

Data not available.

Detection Threshold :

0.031 ng/L air
Synthesis route :

Calone® is synthesized in several stages. The first one is an esterification of 4-methyl pyrocatechol with two equivalents of alkyl 2-bromoacetate. The resulting molecule undergoes a Diekmann condensation followed by an acid hydrolysis and a decarboxylation to obtain the final product.
Synthesis precursor :

Calone® is not a precursor to the synthesis of another compound of olfactory interest.
Isomerism :

Calone® does not have any isomer used in perfumery.
EINECS number :

249-320-4

FEMA number :

Data not available.

JECFA number :

Data not available.

FLAVIS number :

Data not available.

Allergens :

This ingredient does not contain any allergen.

IFRA :

This ingredient is not restricted
To learn more about IFRA's standards : https://ifrafragrance.org/safe-use/library
ScenTree is solely responsible for the information provided here.