Anisyl acetate
Naturelle - Synthétique
CAS N° :
104-21-2
Fruity > Berries > White Flowers > Vanillic > Anisic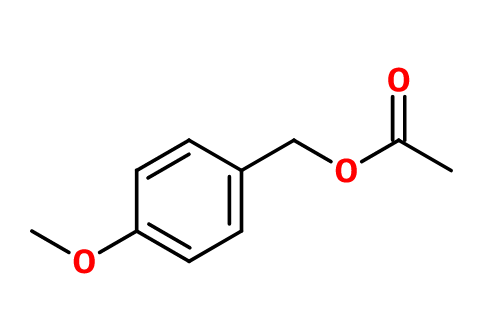 Crédits photo: ScenTree SAS
Other names :

(4-methoxyphenyl)methyl acetate ; 1-methoxy-4-acetoxymethylbenzene ; 4-methoxybenzyl acetate ; Para-methoxybenzyl acetate
Volatility :

Base
Uses in perfumery :

Anisyl acetate is widely used for perfuming cosmetics, for white floral and red fruity notes, for almond, cherry and mimosa notes.
Natural availability :

Anisyl acetate is present in several red fruits and in sweet acacia, from which it can be extracted in its natural state. However, synthetic Anisyl acetate remains the most used in perfumery.
Year of discovery :

Data not available.
Other comments :

Anisic Aldehyde is much more almondy than Anisyl acetate, which is fruitier, reminiscent of raspberry. Anisyl acetate is more associated with perfumery than Anisic Aldehyde, more foody.
Price Range :

€€
Stability :

acetates may form acetic acid through time
Unstable in alkaline products such as bleach.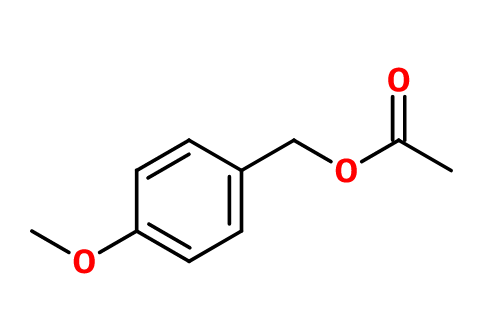 Crédits photo: ScenTree SAS
Molecular formula :

C10H12O3

Molecular Weight :

180,2 g/mol

Density :

1,116

Flash Point :

118°C

Fusion Point :

Donnée indisponible.
Appearance :

Liquid

Log P :

1,9

Boiling Point :

270°C

Detection Threshold :

47,257 ng/l
Synthesis route :

Anisyl acetate can be synthesized from different reagents, but its synthesis will always end up by an esterification reaction of the Anisyl Alcohol with acetic acid or acetic anhydride, in an acid medium.
Synthesis precursor :

Anisyl acetate is not a precursor to the synthesis of another compound of olfactory interest.
Isomerism :

Anisyl acetate as we use it in perfumery is ''para-Anisyl acetate ''. This means that its ether group is opposed to the carboxylic group, with respect to its benzene ring. For example, ortho-Anisyl acetate, whose ether group is directly connected to the carboxylic group, is spicier and drier than para-Anisyl acetate.
EINECS number :

203-185-8

FEMA number :

2098

JECFA number :

873

FLAVIS number :

09.019

Allergens :

This ingredient does not contain any allergen.

IFRA :

This ingredient is not restricted
To learn more about IFRA's standards : https://ifrafragrance.org/safe-use/library
ScenTree is solely responsible for the information provided here.
Do you sell any of the raw materials? Would you like to let our users know?
Send an email to fournisseurs@scentree.co to learn about our advertising opportunities.