Amyl Salicylate
Naturelle - Synthétique
CAS N° :
2050-08-0
Floral > White Flowers > Salicylic > Leather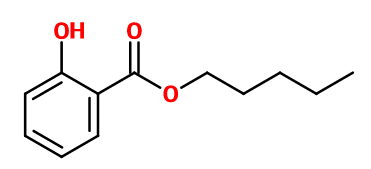 Crédits photo: ScenTree SAS
Other names :

Amyl Salicylate ; Pentyl 2-hydroxybenzoate ; Pentyl ortho-hydroxybenzoate ; Pentyl salicylate ; Rhodiaflor SoA
Volatility :

Heart/Base
Uses in perfumery :

Amyl Salicylate is used in white flowers, carnation, fougere, ambery and vanillic notes.
Natural availability :

Amyl Salicylate is present in trace amounts in Osmanthus Absolute. It can therefore be extracted, but it is mostly the synthetic compound that is used in perfumery.
Year of discovery :

Initially marketed under the name Trefol, Amyl Salicylate was first used in the perfume Trèfle Incarnat - L.T. Pivert (1898) First synthesized in 1854 by reaction of salycile chloride with amyl alcohol by Drion et al.
Other comments :

Isoamyl Salicylate has a more metallic and fruity aspect, while Amyl Salicylate has a pronounced jasmine note.
It is one of the most powerful salicylates.
Price Range :

€
Stability :

May form Salicylic acid through time.
Most of the time, the occurrence of a benzenic cycle in a molecule causes a coloration of this molecule through time.
Unstable in acidic products, except antiperspirants, and in bleach.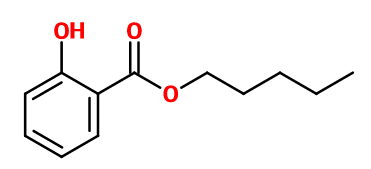 Crédits photo: ScenTree SAS
Molecular formula :

C12H16O3

Molecular Weight :

208,26 g/mol

Density :

1,054

Flash Point :

126°C

Fusion Point :

-12°C
Appearance :

Colorless liquid

Log P :

>4,4

Boiling Point :

282°C

Detection Threshold :

Donnée indisponible.
Synthesis route :

Like other Salicylates, Amyl Salicylate is synthesized by an esterification reaction between salicylic acid and amyl alcohol (or pentenol). This reaction is catalysed by the presence of a strong concentrated acid such as sulfuric acid in the reaction medium.
Synthesis precursor :

Amyl Salicylate is not a precursor to the synthesis of another compound of olfactory interest.
Isomerism :

PhenoxyEthyl IsoButyrate is a constitutional isomer of Amyl Salicylate. It smell is closer to rose than jasmine, and is not solar.
EINECS number :

218-080-2

FEMA number :

Donnée indisponible.

JECFA number :

Donnée indisponible.

FLAVIS number :

09.762

Allergens :

This ingredient does not contain any allergen.

IFRA :

This ingredient is not restricted
To learn more about IFRA's standards : https://ifrafragrance.org/safe-use/library
ScenTree is solely responsible for the information provided here.