CAS N° :
57345-19-4
Woody > Ambery Woods > Cedar > Ambergris > Milky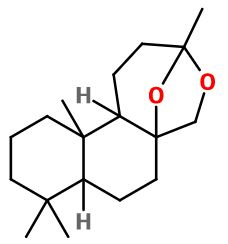 Crédits photo: ScenTree SAS
Other names :

Ambraketal® ; Z11® ; Ambermor ketal® ; Dodecahydro-3,8,8,11a-tetramethyl-5H-3,5a-epoxynaphth[2,1-c]oxepin ; Amber oxepin
Volatility :

Base
Uses in perfumery :

According to its olfactive weakness, this woody and ambery molecule is less used than some others. Amberketal® can be used in woody-ambergris notes and especially in functionnal products thanks to its stability.
Natural availability :

Amberketal® is not available in its natural state.
Year of discovery :

Discovered in 1953.
Other comments :

Most of the time, Amberketal® is diluted at around 10% in Isopropyl Myristate or Dipropylene Glycol for solubility and use reasons.
Price Range :

€€
Stability :

Stable in perfumes and diverse functional bases, except very acid products and bleach.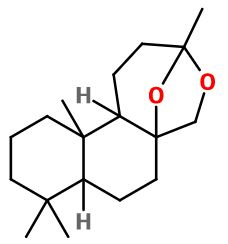 Crédits photo: ScenTree SAS
Molecular formula :

C18H30O2

Molecular Weight :

278,43 g/mol

Density :

0,87 (dans le MIP)

Flash Point :

102°C

Fusion Point :

Donnée indisponible.
Appearance :

Pale yellow liquid

Log P :

4,59

Boiling Point :

Donnée indisponible.

Detection Threshold :

Donnée indisponible.
Synthesis route :

Amberketal® is synthesized from manool, a natural component extracted from ''pink pine '' tree Halocarpus biformis, growing in New-Zealand. One of Manool's double bond is epoxidized, subsequent oxydative degradation of the allyl alcohol function into a ketone, and an intramolecular acetalization, giving birth to the final ketal function.
Synthesis precursor :

Amberketal® is not a precursor to the synthesis of another compound of olfactory interest.
Isomerism :

Amberketal has got five asymmetric carbons, forming a few possible isomers. Nevertheless, only a mix of these isomers is used in perfumery.
EINECS number :

260-686-4

FEMA number :

Donnée indisponible.

JECFA number :

Donnée indisponible.

FLAVIS number :

Donnée indisponible.

Allergens :

This ingredient does not contain any allergen.

IFRA :

This ingredient is not restricted
To learn more about IFRA's standards : https://ifrafragrance.org/safe-use/library
ScenTree is solely responsible for the information provided here.
Do you sell any of the raw materials? Would you like to let our users know?
Send an email to fournisseurs@scentree.co to learn about our advertising opportunities.