cis-3-Hexenyl acetate
Naturelle - Synthétique
CAS N° :
3681-71-8
Green > Cut Grass > Green Fruits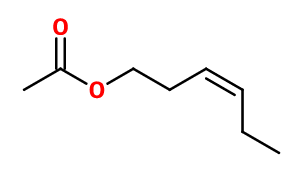 Crédits photo: ScenTree SAS
Other names :

Pipol acetate ; Cis-3-Hexenyl acetate ; Hex-3-enyl acetate ; 3-hexen-1-ol acetate ; Cis-3-hexenyl ethanoate ; Leaf acetate ; Verdural extra®
Volatility :

Head/Heart
Uses in perfumery :

cis-3-Hexenyl acetate is used in fruity-pear, apple and banana accords and in floral notes for an aqueous and airy note. Brings a green, aqueous and fruity facet at the same time.
Natural availability :

Cis-3-Hexenyl acetate is present in the fragrant principle of several fruits such as apple or guava and is also present in hyacinth, Sambac Jasmine Absolute and Ylang-Ylang Extra EO (and other ylang fractions), from which it can be extracted in its natural state in small quantities.
Year of discovery :

Data not available.
Other comments :

cis-3-Hexenyl acetate is more aqueous and greener than Hexyl acetate, with no jasmine aspect. It also is less etheric than cis-3-Hexenyl Formate.
Price Range :

€€
Stability :

acetates may form acetic acid through time. Cis-3-Hexenyl acetate is especially unstable in shower gel and shampoo bases.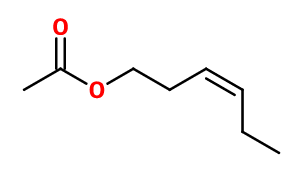 Crédits photo: ScenTree SAS
Molecular formula :

C8H14O2

Molecular Weight :

142,2 g/mol

Density :

0,908

Flash Point :

57°C

Fusion Point :

Donnée indisponible.
Appearance :

Colorless liquid

Log P :

2,7

Boiling Point :

75°C (à 26 hPa)

Detection Threshold :

15,5193 ng/l
Synthesis route :

Cis-3-Hexenyl acetate results from an esterification of cis-3-Hexenol with acetic acid, in the presence of an acid catalysor as concentrated sulfuric acid. Using acetic anhydride or chloroacetic acid can also enhance the yield of this reaction.
Synthesis precursor :

Cis-3-Hexenyl acetate is not a precursor to the synthesis of another compound of olfactory interest.
Isomerism :

Cis-3-Hexenyl acetate diastereoisomer, trans-3-Hexenyl acetate, has almost identical facets as its smell is green, fruity-pear and banana. Another position isomer, called trans-2-Hexenyl acetate, is also useful in perfumery for a less green but more fruity note, reminiscent of apple and pear. Moreover, cis-3-Hexenyl acetate is a constitutional isomer of delta-Octalactone, although they do not share the same smell and their structure are very different.
EINECS number :

222-960-1

FEMA number :

3171

JECFA number :

134

FLAVIS number :

09.197

Allergens :

This ingredient does not contain any allergen.

IFRA :

This ingredient is not restricted
To learn more about IFRA's standards : https://ifrafragrance.org/safe-use/library
ScenTree is solely responsible for the information provided here.