cis-3-Hexenyl IsoButyrate
Synthétique
CAS N° :
41519-23-7
Green > Cut Grass > Green Fruits > Butyric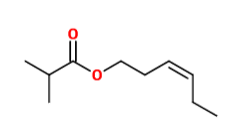 Crédits photo: ScenTree SAS
Other names :

Verdural B Extra ; [(Z)-hex-3-enyl] 2-methylpropanoate ; Propanoic acid ; 2-methyl-3-hexenyl ester
Volatility :

Head
Uses in perfumery :

Brings naturalness to fruity notes. Thanks to its green (cut grass) and its yellow fruit facets, cis-3-hexenyl isobutyrate gives a ripe note to fruits. Interesting for the plum notes.
Suppliers recommend to use it below 1%.
Natural availability :

Reported found in guava, spearmint EO. Do not exist in its natural state but there is a nature identical quality for cis-3-Hexenyl IsoButyrate
Year of discovery :

Data not available.
Other comments :

Can be market with a trace of alpha tocopherol (0.1%) to prevent oxydation.
Price Range :

€€€
Stability :

Les esters ont tendance à former leur acide correspondant en stabilité. Cis-3-Hexenyl IsoButyrate is particularly unstable in a shower gel and shampoo base.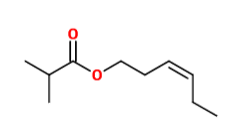 Crédits photo: ScenTree SAS
Molecular formula :

C10H18O2

Molecular Weight :

170,25 g/mol

Density :

0,88

Flash Point :

67°C

Fusion Point :

Donnée indisponible.
Appearance :

Colorless liquid

Log P :

3,52

Boiling Point :

92°C

Detection Threshold :

Donnée indisponible.
Synthesis route :

Cis-3-Hexenyl Isobutyrate is synthesized by an esterification process between Isobutyric acid (or 2-methylpropanoic acid) and cis-3-Hexenol. This reaction involves acid catalysis using a small amount of a strong acid such as concentrated sulphuric acid.
Synthesis precursor :

cis-3-Hexenyl IsoButyrate is not a precursor to the synthesis of another compound of olfactory interest.
Isomerism :

Cis-3-Hexenyl Isobutyrate is the positional isomer of cis-3-Hexenyl Butyrate and trans-2-Hexenyl Isobutyrate. The latter are less commonly used in perfumery, but have a similar odor. Trans-2-Hexenyl Isobutyrate has a more fruity and less green, apple-like smell. Trans-3-Hexenyl Isobutyrate, is not used in perfumery.
EINECS number :

255-424-0

FEMA number :

3929

JECFA number :

1275

FLAVIS number :

09.563

Allergens :

This ingredient does not contain any allergen.

IFRA :

This ingredient is not restricted
To learn more about IFRA's standards : https://ifrafragrance.org/safe-use/library
ScenTree is solely responsible for the information provided here.
Do you sell any of the raw materials? Would you like to let our users know?
Send an email to fournisseurs@scentree.co to learn about our advertising opportunities.