Phenyl Ethyl acetate
Naturelle - Synthétique
CAS N° :
103-45-7
Floral > Rosy > Honeyed > White Flowers > Green Fruits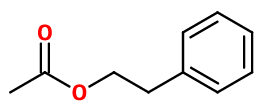 Crédits photo: ScenTree SAS
Other names :

2-Phenyl Ethyl acetate ; PE acetate ; Benzyl carbinyl acetate ; Beta-phenethyl acetate ; Phenethyl ethanoate
Volatility :

Heart
Uses in perfumery :

Phenyl ethyl acetate is used in addition to phenyl ethyl alcohol, for its even more honeyed and fruity note, in reconstitutions of rose or lilac.
Natural availability :

Phenyl ethyl acetate is present in small quantity in several commonly used extracts: Ylang-Ylang Extra EO (and other ylang fractions), Narcissus Absolute, Indian Geranium EO, Champaca Absolute, and in several consumer products such as liquors. It can be extracted in its natural state from the above-mentioned extracts.
Year of discovery :

Data not available.
Other comments :

The esterification of Phenyl Ethyl Alcohol brings a more fruity and even more honeyed smell to the reaction product. This is often the role of esters in perfumery: to bring a fruity note, while keeping a backnote of the corresponding alcohol. Here, the fruity note is close to pear.
Price Range :

€
Stability :

acetates may form acetic acid in stability.
Most of the time, the presence of an aromatic cycle in a molecule brings coloration through time.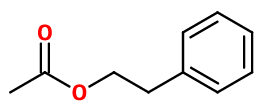 Crédits photo: ScenTree SAS
Molecular formula :

C10H12O2

Molecular Weight :

164,2 g/mol

Density :

1,033

Flash Point :

105°C

Fusion Point :

Donnée indisponible.
Appearance :

Colorless liquid

Log P :

2,27

Boiling Point :

239°C

Detection Threshold :

De l'ordre de 40 à 200 ppb (0,00002%) selon les personnes
Synthesis route :

Phenyl Ethyl acetate can be synthesized by an esterification reaction between Phenyl Ethyl Alcohol and acetic acid, in the presence of a catalyst such as concentrated sulfuric acid, in small quantity in the reaction medium. The yield of this reaction can be improved by using acetic anhydride or chloroacetic acid instead of acetic acid.
Synthesis precursor :

Phenyl Ethyl acetate is not a precursor to the synthesis of another compound of olfactory interest.
Isomerism :

Phenyl Ethyl acetate has several constitutional isomers used in perfumery. These include Styrallyl acetate, from which one of the carbons in the main chain is ramified, and which has a much more fruity and green smell, reminiscent of rhubarb. Finally, there is Benzyl Propionate, whose esterified chain is longer than the chain linked to the aromatic cycle, to get a more fruity smell of pear and jasmine.
EINECS number :

203-113-5

FEMA number :

2857

JECFA number :

989

FLAVIS number :

09.031

Allergens :

This ingredient does not contain any allergen.

IFRA :

This ingredient is not restricted
To learn more about IFRA's standards : https://ifrafragrance.org/safe-use/library
ScenTree is solely responsible for the information provided here.