Phenyl Ethyl Alcohol
Naturelle - Synthétique
CAS N° :
60-12-8
Floral > Rosy > Honeyed > White Flowers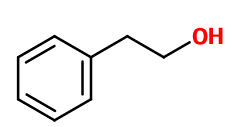 Crédits photo: ScenTree SAS
Other names :

PEA ; 2-phenylethanol ; Mellol ; Benzyl methanol ; Benzyl carbinol ; Phenethylol
Volatility :

Heart
Uses in perfumery :

Phenyl Ethyl Alcohol is used for its stability in rosy floral notes, peony, lilac, hyacinth, freesia. Makes the link between the head and the base of a perfume.
Natural availability :

Phenyl Ethyl Alcohol is present in Damask Rose Absolute (40 to 70%), but in trace in Damask Rose EO as its solubility in water is very low. Phenyl Ethyl Alcohol can be extracted from rose at a high cost, or Geranium EO at a lower cost. It can also be extracted from Ylang-Ylang Extra EO (and other ylang fractions) or Neroli EO.
Year of discovery :

Discovered in 1876.
Other comments :

In comparision to Phenyl Propyl Alcohol, Phenyl Acetaldehyde and Phenylacetic Acid, PEA has the smell most linked to Damask Rose Absolute and Rose de Mai Absolute. It has a jasmine undernote but does not have the honeyed, green, cinnamic or butyric caracter as the above quoted compounds.
Price Range :

€
Stability :

Most of the time, the occurrence of a benzenic cycle in a molecule causes a coloration of this molecule through time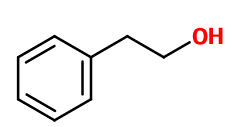 Crédits photo: ScenTree SAS
Molecular formula :

C8H10O

Molecular Weight :

122,16 g/mol

Density :

1,017

Flash Point :

102°C

Fusion Point :

-26°C
Appearance :

Colorless liquid

Log P :

1,3

Boiling Point :

219°C

Detection Threshold :

Le seuil de détection de l'Alcool Phényl Ethylique varie selon les personnes, entre 0,015 ppb (ce qui est extrêmement faible) et 1,2 ppm (0,00012%), ce qui fait de lui l'un des composés rosés les plus puissants,
Synthesis route :

The synthesis of Phenyl Ethyl Alcohol is common in two ways. The first is a Friedel and Craft reaction reacting benzene with ethylene oxide in the presence of aluminum chloride, followed by a hydrolysis. The second is an oxidation on styrene oxide in the catalytic presence of Raney nickel and sodium hydroxide.
Synthesis precursor :

Phenyl Ethyl Alcohol is the precursor for the synthesis of Phenylacetic Aldehyde by reduction and Phenylacetic Acid by oxidation. Several of the esters obtained between fatty acids and Phenyl Ethyl Alcohol are used in perfumery.
Isomerism :

Phenyl Ethyl Alcohol does not have any isomer used in perfumery.
EINECS number :

200-456-2

FEMA number :

2858

JECFA number :

987

FLAVIS number :

02.019

Allergens :

This ingredient does not contain any allergen.

IFRA :

This ingredient is not restricted
To learn more about IFRA's standards : https://ifrafragrance.org/safe-use/library
ScenTree is solely responsible for the information provided here.