Methyl Isoeugenol
Naturelle - Synthétique
CAS N° :
93-16-3
Floral > White Flowers > Spicy > Earthy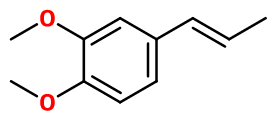 Crédits photo: ScenTree SAS
Other names :

Isoeugenol methyl ether ; Isoeugenyl methyl ether ; 1,2-dimethoxy-4-prop-1-enylbenzene ; 3,4-dimethoxy-1,1-propen-1-yl benzene ; Isoeugenol methyl ; Methylisoeugenol ; 4-propenyl veratrole ; 4-prop-1-enyl veratrole ; 1-veratryl-1-propene
Volatility :

Heart
Uses in perfumery :

Methyl Isoeugenol is used in tuberose and lily accord, to bring a characteristic note, in clove and in spicy flowers accords as carnation.
Natural availability :

Methyl Isoeugenol can be found in small quantities in a few essential oils as Star Anise EO, Cinnamon Leaf EO, Mastic Absolute and some varieties of Damask Rose EO. It can be extracted from these oils and can be used on its natural state.
Year of discovery :

Data not available.
Other comments :

It can be used preferrentially to Methyl Eugenol, because Methyl Isoeugenol is not regulated.
Its smell is way more floral than the one of Methyl Eugenol.
Price Range :

€€
Stability :

Become red under light and in alkaline bases. Thus, it is better not to use it in alkaline bases such as shower gels or shampoos.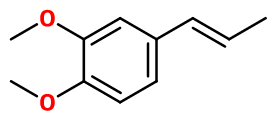 Crédits photo: ScenTree SAS
Molecular formula :

C11H14O2

Molecular Weight :

178,23 g/mol

Density :

1,05

Flash Point :

113°C

Fusion Point :

Donnée indisponible.
Appearance :

Colorless to pale yellow liquid

Log P :

3,05

Boiling Point :

263°C

Detection Threshold :

Donnée indisponible.
Synthesis route :

Methyl Isoeugenol is obtained in a synthetic way from Isoeugenol, thanks to a methylation reaction. This etherification reaction is done thanks to a Williamson synthesis, consisting in forming a sodium alcoholate, in the presence of pure sodium reacting with Isoeugenol. Then, the Isoeugenolate reacts with methyl chloride.
Synthesis precursor :

Methyl Isoeugenol is not a precursor to the synthesis of another compound of olfactory interest.
Isomerism :

Methyl Isoeugenol is a position isomer of Methyl Eugenol. Their smell is different : Methyl Isoeugenol is more floral, reminiscent of tuberose, while Methyl Eugenol is more spicy. Both are keeping an earthy and wet facet, more noticeable for Methyl Eugenol. Cis and trans isomers of Methyl Isoeugenol have a very close smell. This explains the general use of a racemic mix of these two isomers in perfumery.
EINECS number :

202-224-6

FEMA number :

2476

JECFA number :

1266

FLAVIS number :

04.013

Allergens :

This ingredient does not contain any allergen.

IFRA :

This ingredient is not restricted
To learn more about IFRA's standards : https://ifrafragrance.org/safe-use/library
ScenTree is solely responsible for the information provided here.