Methyl Cinnamate
Naturelle - Synthétique
CAS N° :
103-26-4
Fruity > Green Fruits > Balsamic > Cinnamic > Rosy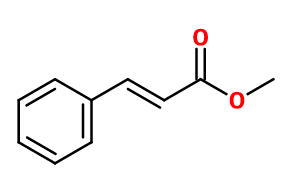 Crédits photo: ScenTree SAS
Other names :

Methyl Cinnamate ; Methyl 3-Phenylprop-2-enoate ; Cinnamic acid methyl ester ; Methyl-3-phenylacrylate ; Methyl cinnamylate
Volatility :

Base
Uses in perfumery :

Methyl Cinnamate is used mainly to create oriental accords (vanilla, balsams, leather) or floral notes such as rose, carnation or hyacinth.
Natural availability :

Methyl Cinnamate is present in various plants, starting with plants of the genus Alpinia, from the zingibiraceae family (same family as ginger), of which it can represent up to 80% of the composition of the essential oil. It is also present at more than 50% in the essential oil of Ocimum canum, a plant of the lamiaceae family, looking like clary sage. Methyl Cinnamate can therefore be extracted from these raw materials.
Year of discovery :

Data not available.
Other comments :

Methyl Cinnamate is one of the most powerful cinnamic esters. It is much more powerful than Benzyl Cinnamate for example.
Price Range :

€€
Stability :

Molecule encountering some great solubilization difficulties. May form cinnamic acid through time.
Tends to get a yellow color through time.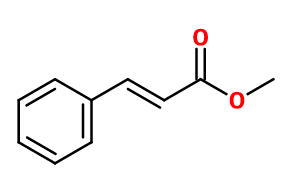 Crédits photo: ScenTree SAS
Molecular formula :

C10H10O2

Molecular Weight :

162,19 g/mol

Density :

1,042

Flash Point :

123°C

Fusion Point :

37°C
Appearance :

White crystals

Log P :

Donnée indisponible,

Boiling Point :

255°C

Detection Threshold :

Donnée indisponible.
Synthesis route :

Methyl Cinnamate can be synthesized in two ways. The first is a conventional acidic esterification between Cinnamic Acid and methanol. The second is a Claisen condensation, that consists in reacting Benzaldehyde with Methyl acetate in the presence of sodium.
Synthesis precursor :

Methyl Cinnamate is not a precursor to the synthesis of another compound of olfactory interest.
Isomerism :

The double bond of Methyl Cinnamate gives rise to two possible diastereoisomers. Both have a relatively similar smell. The racemic mixture of the two isomers is generally used in perfumery.
EINECS number :

203-093-8

FEMA number :

2698

JECFA number :

Donnée indisponible.

FLAVIS number :

Donnée indisponible.

Allergens :

This ingredient does not contain any allergen.

IFRA :

This ingredient is not restricted
To learn more about IFRA's standards : https://ifrafragrance.org/safe-use/library
ScenTree is solely responsible for the information provided here.