CAS N° :
8007-12-3- 84082-68-8
Spicy > Cool Spices > Dry Woods > Camphoric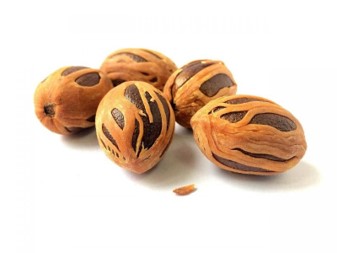 Crédits photo: ScenTree SAS
Latin name :

Myristica fragrans
Botanical profile :

The nutmeg tree is a tree of the Myristicaceae family and the genus Myristica.
Geographic origin :

Originally from the Moluccas, an Indonesian archipelago, nutmeg crops are now grown mainly in sub-tropical and tropical Asian areas: Indonesia and Grenada mainly, India, Sri Lanka, China, Zanzibar, Australia.
Chemotypes :

The genus Myristica contains about 150 species. Only sweet nutmeg is used for perfumery.
There are several ''fake nutmegs '':
African nutmeg (Monsmella myristica) from Jamaica, has an essential oil with α-Phellandrene, reminding the smell of nutmeg.
The nutmeg of Guiana (Acrodiclidium camara) from South America.
The Ashenti pepper (Piper guineense), with leaves reminding of the nutmeg smell.
Extraction process :

The fruits are harvested all year round with a fruit picker. They are dried in the shade, to avoid melting the lipids. Six to eight weeks later, the seed is separated from its hard shell to be ground and steam distilled.
At the end of the process, the essential oil is collected in the essencier by decantation of the water. This distillation yield oscillates between 8 and 10%. The first harvest should take place seven years after planting the tree, as the fruits ripen slowly. The older the tree, the better its productivity and therefore, the quality of its essential oil. The absolute can be obtained by extraction with volatile solvent, with a spicier and aromatic smell.
Major Components :

Alpha-pinene (18 - 23%)
Beta-pinene (13 - 14,5%)
Myristicin (8,75 - 13,75%)
Alpha-terpinene (~ 4%)
Alpha-terpinolene (~ 3%)
D-limonene (2 - 7%)
Alpha-thuyene (~ 2%)
Myrcene (~ 2%)
Safrole (0,5 - 2,5%)
Methyl eugenol (< 0,5%)

Plotter(s): Myristicin (8,75 - 13,75%)
Crédits photo: ScenTree SAS

Uses in perfumery :

Used in spicy notes, much more powerful and impactful than nutmeg EO, Mace EO provides volume and longlasting in colognes or fougères. Mace is also widely used as spice.

Other comments :

Please note that the mace oil contain less sabinene, Alpha-pinene and Beta-pinene than nutmeg EO. At the opposite, Mace EO contain more terpinen-4-ol, methyl eugenol and elemincin.
The Mace EO is very photosensitizing and is strongly discouraged for pregnant women.
Nutmeg alone is a narcotic because of its myristicin high content.

Volatility :

NON TROUVE_Cœur/Fond

Appearance :

Pale to yellow liquid

Stability :

The terpenes identified in this raw material can polymerize when they are oxidized

Price Range :

Data not available.

Aromatherapy :

Informations provided below are taken from reference works in aromatherapy. They are given for information purposes only and can not constitute medical information, nor engage the responsibility of ScenTree.

Data not available.
EINECS number :

282-013-3

FEMA number :

2653

Allergens :

This ingredient does not contain any allergen.

IFRA :

This ingredient is not restricted
To learn more about IFRA's standards : https://ifrafragrance.org/safe-use/library
ScenTree is solely responsible for the information provided here.