Linalyl Propionate
Naturelle - Synthétique
CAS N° :
144-39-8
Citrus > Zesty > Bergamot > Green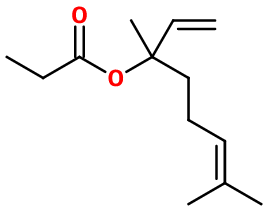 Crédits photo: ScenTree SAS
Other names :

1,5-dimethyl-1-ethenylhex-4-enyl propionate ; 1,5-dimethyl-1-vinylhex-4-enyl propionate ; Linalyl propanoate ; 3,7-dimethyl-1,6-octadien-3-yl propanoate
Volatility :

Heart
Uses in perfumery :

Less used than Linalyl acetate, it is still used for bergamot notes, for a contribution of naturalness, a sweet note and a green facet.
Natural availability :

Linalyl Propionate is found in Sweet Orange EO, Lemon EO, Bergamot EO. Its laevorotatory form is present in Lavender EO and Sage EO.
Year of discovery :

Data not available.
Other comments :

Can contain Linalool traces.
Its smell is greener and less agrestic than the one of Linalyl acetate.
Price Range :

€€€
Stability :

Esters may form their corresponding acid through time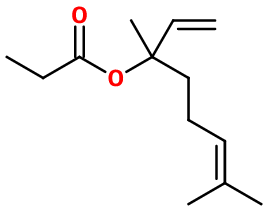 Crédits photo: ScenTree SAS
Molecular formula :

C13H22O2

Molecular Weight :

210,32 g/mol

Density :

0,896

Flash Point :

101°C

Fusion Point :

-20°C
Appearance :

Colorless liquid

Log P :

4,9

Boiling Point :

223°C

Detection Threshold :

Donnée indisponible.
Synthesis route :

Linalyl Propionate is synthesized by an esterification reaction involving Linalol. This reaction may involve acetic acid, in the presence of a small amount of a concentrated strong acid, such as sulphuric acid. To improve the yield of this reaction, acetic anhydride or chloroacetic acid can be used instead of acetic acid.
Synthesis precursor :

Linalyl Propionate is not a precursor to the synthesis of another compound of olfactory interest.
Isomerism :

Linalyl Propionate used in perfumery is a racemic mixture of its two enantiomers (R) and (S). Both have a similar smell. Geranyl Propionate and Lyral® are both constitutional isomers of Linalyl Propionate. The first is more citric and rosy, and the second has a transparent floral and aldehydic note.
EINECS number :

205-627-5

FEMA number :

2645

JECFA number :

360

FLAVIS number :

09.130

Allergens :

This ingredient does not contain any allergen.

IFRA :

This ingredient is not restricted
To learn more about IFRA's standards : https://ifrafragrance.org/safe-use/library
ScenTree is solely responsible for the information provided here.
Do you sell any of the raw materials? Would you like to let our users know?
Send an email to fournisseurs@scentree.co to learn about our advertising opportunities.