Linalool Oxide
Naturelle - Synthétique
CAS N° :
1365-19-1
Herbal > Camphoric > Fresh Flowers > Zesty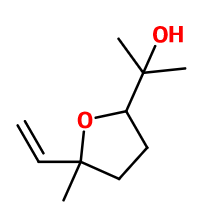 Crédits photo: ScenTree SAS
Other names :

2-(5-methyl-5-vinyltetrahydro-2-furanyl)-2-propanol ; Linalool 3,7-oxide ; Linalool dihydroepoxide ; (Z,E)-2-methyl-2-vinyl-5-(2-hydroxy-2-propyl) tetrahydrofuran ; Alpha-methyl-alpha-(4-methyl-3-penten-1-yl)-2-oxiranemethanol ; (Z,E)-2-vinyl-2-methyl-5-(1-hydroxy-1-methylethyl)tetrahydrofuran
Volatility :

Head/Heart
Uses in perfumery :

Linalool Oxide brings a fresh and acidic fruit facet to an apple. Allows to enhance floral and fruity notes, rising them.
Natural availability :

Linalool Oxide is present in several plants and especially in Eucalyptus EO. It can therefore be extracted in its natural state. Nevertheless, synthetic Linalool Oxide is much more produced and used in perfumery.
Year of discovery :

Data not available.
Other comments :

Data not available.
Price Range :

€€€
Stability :

Unstable in acidic products, except antiperspirants, and in very alkaline products.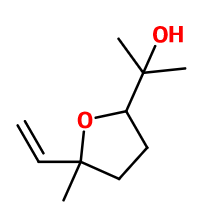 Crédits photo: ScenTree SAS
Molecular formula :

C10H18O2

Molecular Weight :

170,25 g/mol

Density :

0,941

Flash Point :

63°C

Fusion Point :

Donnée indisponible.
Appearance :

Colorless liquid

Log P :

1,7

Boiling Point :

188°C

Detection Threshold :

320 ppb (0,000032%),
Synthesis route :
Synthesis precursor :

Linalool Oxide is not a precursor to the synthesis of another compound of olfactory interest.
Isomerism :

Linalool Oxide is a mixture of two cis and trans isomers. Both have a similar smell but are rarely used separately. A dehydrated derivative of Linalool Oxide exists and is present in its natural state. Its smell is also minty and close to Eucalyptus EO. Gamma-Decalactone and Neofolione® are constitutional isomers of Linalool Oxide, but they have a very different fruity-peach smell.
EINECS number :

215-723-9

FEMA number :

3746

JECFA number :

1454

FLAVIS number :

13.140

Allergens :

This ingredient does not contain any allergen.

IFRA :

This ingredient is not restricted
To learn more about IFRA's standards : https://ifrafragrance.org/safe-use/library
ScenTree is solely responsible for the information provided here.
Do you sell any of the raw materials? Would you like to let our users know?
Send an email to fournisseurs@scentree.co to learn about our advertising opportunities.