Kaempferia galanga extract
Naturelle
CAS N° :
92347-13-2 // 936843-30-0
Spicy > Warm Spices > Smoky Woods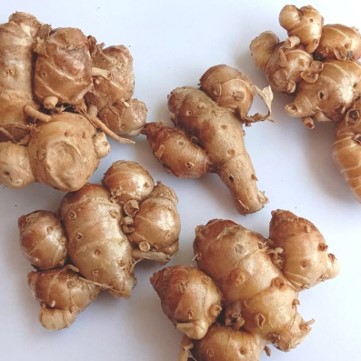 Crédits photo: ScenTree SAS
Latin name :

Kaempferia galanga
Botanical profile :

Kaempferia galanga is a plant belonging to the Zingiberaceae family and to the kaempferia genus.
Geographic origin :

Mainly found in South East Asia. The grade studied here comes from Indonesia.
Chemotypes :

Kaempferia genus contain over 100 species but only three of them are well studied for their essential oils along with other important phytochemical and medicinal properties : Kaempferia galanga, Kaempferia rotunda, and Kaempferia angustifolia.
Extraction process :

Obtained through the solvent extraction of Galanga rhizomes using food grade ethanol. Solvent is evaporated post extraction. CO2 extraction is also available for this plant (Kaempferia galanga CO2)
Major Components :

Ethyl cinnamate
Ethyl-p-methoxycinnamate
Pentadecane
Crédits photo: ScenTree SAS

Uses in perfumery :

Data not available.

Other comments :

Galanga should not be confused with ''galangal '' spices. Indeed, even if there are both extracted from rhizome, we are not talking about the same species. Here we are studying Kaempferia galanga when ''galangal '' refers to Alpinia galanga (greater galangal) and Alpinia officinarum (lesser galangal).

Volatility :

Heart/Base

Appearance :

Brown liquid

Stability :

Price Range :

Donnée indisponible.

Aromatherapy :

Informations provided below are taken from reference works in aromatherapy. They are given for information purposes only and can not constitute medical information, nor engage the responsibility of ScenTree.

Data not available.
EINECS number :

296-200-2

FEMA number :

Donnée indisponible.

Allergens :

This ingredient does not contain any allergen.

IFRA :

This ingredient is not restricted
To learn more about IFRA's standards : https://ifrafragrance.org/safe-use/library
ScenTree is solely responsible for the information provided here.