Delta-Decalactone
Synthétique
CAS N° :
705-86-2
Fruity > Lactonic > Coconut > Butyric > Mushroom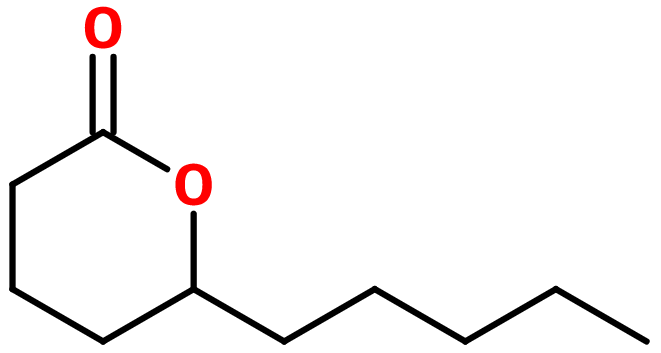 Crédits photo: ScenTree SAS
Other names :

Decalactone-delta ; Amyl-delta-valerolactone ; Delta-amyl-valerolactone ; 5-decalactone ; Decan-5-olide ; Decano-1,5-lactone ; 5-decanolide ; 6-pentyltetrahydro-2H-pyran-2-one ; 6-pentyloxan-2-one
Volatility :

Base
Uses in perfumery :

Delta-Decalactone is used for coconut reconstitutions, but also to bring a fruity and milky effect in sandalwood or fruity compositions for example.
Natural availability :

Delta-Decalactone is found in the odorous principle of many fruits as coconut, peach, raspberry, apricot and some cheeses. It does not exist on a natural state for perfumery.
Year of discovery :

Data not available.
Other comments :

Comparing with other lactones, Delta-Decalactone is without a doubt one of the most coconut-like one, with no real peach effect.
Price Range :

€€
Stability :

Lactones tend to polymerize through time, making them more viscous and leading to a phase shift in alcohol.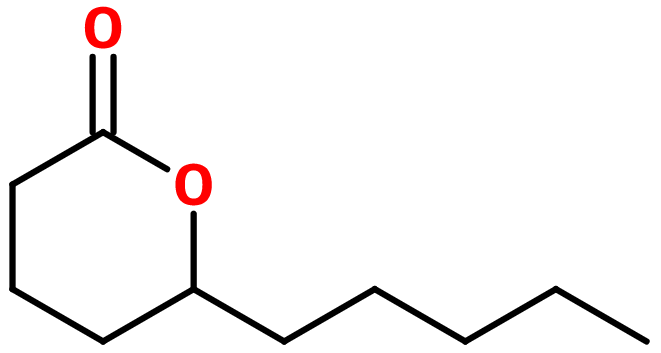 Crédits photo: ScenTree SAS
Molecular formula :

C10H18O2

Molecular Weight :

170,25 g/mol

Density :

0,97

Flash Point :

145°C

Fusion Point :

-27°C
Appearance :

Colorless liquid

Log P :

2,27

Boiling Point :

117°C (à 0,02 mmHg)

Detection Threshold :

De l'ordre de 100 ppb (0,00001%)
Synthesis route :

Delta-Decalactone can be prepared by oxidation of 2-pentylcyclopentanone, using a peracide.
Synthesis precursor :

Delta-Decalactone is not used for the synthesis of another compound used in perfumery.
Isomerism :

Delta-Decalactone has one asymetric carbon. A mixture of its enantiomers is used for perfumery. Delta-Decalactone is a constitutional isomer of Gamma-Decalactone, having one carbon atom less in its cycle, and one more in its ramified carbon chain. The resulting smell is very peachy for the isomer, and coconut-like for Delta-Decalactone.
EINECS number :

211-889-1

FEMA number :

2361

JECFA number :

232

FLAVIS number :

10.007

Allergens :

This ingredient does not contain any allergen.

IFRA :

This ingredient is not restricted
To learn more about IFRA's standards : https://ifrafragrance.org/safe-use/library
ScenTree is solely responsible for the information provided here.