Citronellic Acid
Naturelle - Synthétique
CAS N° :
502-47-6
Aldehydes > Orange > Citric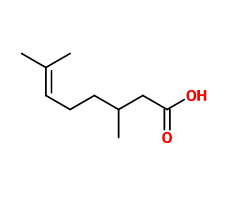 Crédits photo: ScenTree SAS
Other names :

3,7-dimethyloct-6-enoic acid ; Rhodinolic acid ; Citronellate
Volatility :

Heart/Base
Uses in perfumery :

Data not available.
Natural availability :

Found in cardamom
Year of discovery :

Data not available.
Other comments :

Data not available.
Price Range :

€€€
Stability :

Stable in perfumes and in diverse bases.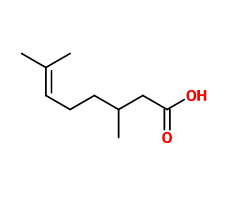 Crédits photo: ScenTree SAS
Molecular formula :

C10H18O2

Molecular Weight :

170,25 g/mol

Density :

0,93

Flash Point :

163,2°C

Fusion Point :

Donnée indisponible.
Appearance :

Colorless liquid

Log P :

2,84

Boiling Point :

257°C

Detection Threshold :

Donnée indisponible.
Synthesis route :

Citronellic Acid is obtained by oxidation of Citronellal. This synthesis can use a Pinnick's Oxidation reaction. This oxidation takes place in two steps. First step, chlorous acid is synthetized by reaction between sodium chlorite and sodium dihydrogenphosphate. The second stage brings the chlorous acid into contact with the Citronellal, making its functional carbon more electrophilic. It can therefore undergo nucleophilic attack by the chlorite ion formed. A release of hypochlorous acid during a concerted mechanism finally allows citronellal acid to be formed.
Synthesis precursor :

Citronellic Acid is used for the synthesis of several citronellic esters. A catalyzed reaction with ethanol allows for example to form Ethyl Citronellate.
Isomerism :

Citronellic Acid has an asymmetric carbon which gives origin to two possible enantiomers for this molecule. It is nevertheless a mixture of its isomers which is used in perfumery.
EINECS number :

207-939-7

FEMA number :

3142

JECFA number :

1221

FLAVIS number :

08.036

Allergens :

This ingredient does not contain any allergen.

IFRA :

This ingredient is not restricted
To learn more about IFRA's standards : https://ifrafragrance.org/safe-use/library
ScenTree is solely responsible for the information provided here.
Do you sell any of the raw materials? Would you like to let our users know?
Send an email to fournisseurs@scentree.co to learn about our advertising opportunities.