Caproic Acid
Naturelle - Synthétique
CAS N° :
142-62-1
Butyric Buttery > Butyric > Tropical Fruits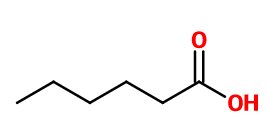 Crédits photo: ScenTree SAS
Other names :

Hexanoic Acid ; Butyl acetic acid ; Pentyl formic acid
Volatility :

Heart/Base
Uses in perfumery :

Caproic Acid is used in very small quantity in cheese and lavender notes.
Natural availability :

Caproic Acid can be obtained naturally, as it is present in many plant extracts, such as Lavender EO, Petitgrain EO or Lemongrass EO. Therefore, it can be extracted from these essential oils by fractional distillation.
Year of discovery :

Data not available.
Other comments :

Data not available.
Price Range :

€€
Stability :

Stable in perfumes and diverse functional bases
Les acides font baisser le pH d'un produit parfumé. Un pH acide peut mieux conserver le parfum, comme être la sources de modification d'autres matières premières.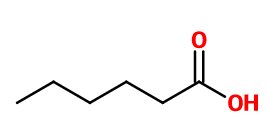 Crédits photo: ScenTree SAS
Molecular formula :

C6H12O2

Molecular Weight :

116,16 g/mol

Density :

0,925

Flash Point :

102°C

Fusion Point :

-3°C
Appearance :

Oily colorless liquid

Log P :

1,75

Boiling Point :

205°C

Detection Threshold :

93 ppb à 100 ppm selon les personnes (0,01% maximum)
Synthesis route :

Caproic acid is synthesized from chloropentane by a two-step reaction, by reaction with sodium cyanide, followed by hydrolysis.
Synthesis precursor :

Caproic acid is the precursor for the synthesis of several esters called ''caproates '', by reacting it with an alcohol, in the presence of an acid catalyst.
Isomerism :

Ethyl Butyrate is a constitutional isomer of Caproic Acid. Indeed, Ethyl Butyrate has a very butyric and cheesy note.
EINECS number :

205-550-7

FEMA number :

2559

JECFA number :

93

FLAVIS number :

08.009

Allergens :

This ingredient does not contain any allergen.

IFRA :

This ingredient is not restricted
To learn more about IFRA's standards : https://ifrafragrance.org/safe-use/library
ScenTree is solely responsible for the information provided here.
Do you sell any of the raw materials? Would you like to let our users know?
Send an email to fournisseurs@scentree.co to learn about our advertising opportunities.