CAS N° :
84775-81-5
Spicy > Warm Spices > Anisic > Almondy > Plastic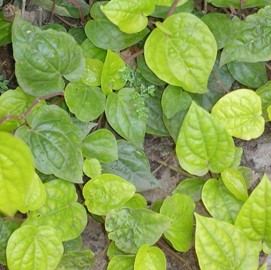 Crédits photo: ScenTree SAS
Latin name :

Piper betle
Botanical profile :

Betel is a scrub belongin to the Piperaceae family and to the piper genus.
Geographic origin :

Mostly found in Southeast Asia, Indonesia, Malaysia (country of origin), Sri Lanka and India
Chemotypes :

There are many species of pepper (Piper), cultivable for perfume or not:
Piper nigrum (Black Pepper EO) - Classic pepper, worldwidely famous for its spice
Piper betel (Betel leaf EO) - From south east Asia, known for the medicial properties of its leaves.
Piper cubeba (Cubeb pepper Absolute - Cubeb pepper CO2 - Cubeb pepper EO) Cubeb pepper, or ''tailled pepper ''
Piper umbellatum - Cow foot leaf , native to the Amazon.
Piper guineense - Guinea pepper, rich in myristicin.
Piper bourbonense - Bourbon pepper, from Madagascar.
Piper longum - Long pepper, used in Ayurvedic (Indian) medicine.
Piper longifolium - Long-leaved pepper.

There are also fake peppers:
Cubeba officinalis - whose leaves are distilled.
Pimenta dioica - Jamaican pepper or All Spice EO.
Zanthoxylum armatum - Sichuan Pepper Absolute.
Capsicum frutescens - Cayenne pepper.
Extraction process :

Volatile oil obtained through the steam distillation of fresh/partially dried betel leaves.
Major Components :

Chavicol ( 30% )
Eugenol (20 - 28%)
Crédits photo: ScenTree SAS

Uses in perfumery :

Data not available.

Other comments :

Data not available.

Volatility :

Base

Appearance :

Yellow to brown liquid

Stability :

Price Range :

Donnée indisponible.

Aromatherapy :

Informations provided below are taken from reference works in aromatherapy. They are given for information purposes only and can not constitute medical information, nor engage the responsibility of ScenTree.

. Betel leaves are mainly known for their medicinal properties, especially in traditional Chinese medicine. They are considered to have tonic, invigorating and psycho-stimulating properties, thanks to their high content of chavicol and betel-phenol
EINECS number :

283-910-2

FEMA number :

Donnée indisponible.

Allergens :

This ingredient does not contain any allergen.

IFRA :

This ingredient is not restricted
To learn more about IFRA's standards : https://ifrafragrance.org/safe-use/library
ScenTree is solely responsible for the information provided here.