Beta-Ionone
Naturelle - Synthétique
CAS N° :
79-77-6
Floral > Powdery Flowers > Violet Flower > Earthy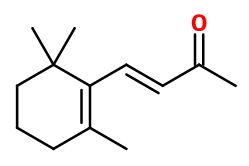 Crédits photo: ScenTree SAS
Other names :

(E)-4-[(5R)-5,6,6-trimethylcyclohexen-1-yl]but-3-en-2-one ; (E)-4-(2,6,6-trimethylcyclohexen-1-yl)but-3-en-2-one
Volatility :

Heart/Base
Uses in perfumery :

Beta-Ionone is used in violet flower reproductions, in floral and fruity notes (blackcurrant, blackberry). Gives a powdery effect and provides a ''retro '' image to women's perfumes. Provides a floral sweetness. Very good binder. To be combined with Bergamot EO, Hedione® and Beta-Damascone® for a ''tea '' scheme.
Natural availability :

Beta-Ionone is present in sweet acacia or Osmanthus Absolute from which it can be extracted in its natural state. In most cases, it is the synthetic beta-Ionone that is used in perfumery.
Year of discovery :

This discovery was made in 1896, starting from Irones, isolated from orris butter. Ionones were discovered randomly, when a laboratory assistant added sulfuric acid to dishwash a glass containing a wrong intermediary to irone synthesis.
Other comments :

Beta-Ionone is more woody than alpha-Ionone, which is fruity and more floral-violet. Gamma-Ionone is quite woody and resinous.
The first use of Beta-Ionone in perfumery was in 1893, in Vera Violetta, by Roger et Gallet.
Price Range :

€€
Stability :

Stable in perfumes and diverse functional bases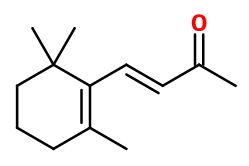 Crédits photo: ScenTree SAS
Molecular formula :

C13H20O

Molecular Weight :

192,3 g/mol

Density :

0,945

Flash Point :

129°C

Fusion Point :

-35°C
Appearance :

Colorless liquid

Log P :

4

Boiling Point :

127°C (à 16 hPa)

Detection Threshold :

Donnée indisponible.
Synthesis route :

Today, the synthesis of Ionones is made from Citral, by reaction with acetone. The category of compounds obtained is called Pseudoionone. The cyclization of Pseudoionones into Ionones is done in an acid medium. Sulfuric acid is the most preferable acid for synthesizing beta-ionone. The yield of this cyclization is clearly in favor of this isomer. In general, each Ionone synthesis results in the formation of isomers of the desired molecule. In the case of beta-Ionone, a purity of about 92% can be achieved on an industrial scale.
Synthesis precursor :

beta-Ionone is a precursor to the synthesis of DihydroBeta-Ionone and Ambrinol (thermolysis reaction).
Isomerism :

Beta-Ionone is obtained during the cyclization step of Pseudoionone, using phosphoric acid instead of sulfuric acid, in a catalytic amount. gamma-Ionone is obtained by using boron trifluoride as a catalyst. Alpha-Damascone® and beta-Damascone are positional isomers of Ionones. Their ketone function as well as a methyl group are in different parts of the molecule. Their smell is modified: Damascone® have a smell of cooked apple instead of violet.
EINECS number :

201-224-3

FEMA number :

2595

JECFA number :

389

FLAVIS number :

Donnée indisponible.

Allergens :

This ingredient does not contain any allergen.

IFRA :

This ingredient is not restricted
To learn more about IFRA's standards : https://ifrafragrance.org/safe-use/library
ScenTree is solely responsible for the information provided here.