CAS N° :
68133-79-9
Fruity > Green Fruits > Rosy > Gourmand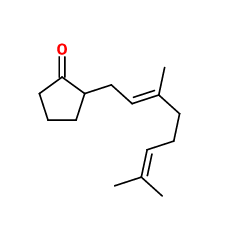 Crédits photo: ScenTree SAS
Other names :

Decenyl Cyclopentanone ; Geranyl Cyclopentanone ; 2-(3,7-dimethyl-2,6-octadien-1-yl)-Cyclopentanone ; citryl cyclopentanone
Volatility :

Heart/Base
Uses in perfumery :

Usually used in fruity notes such as apricot or peach. It is also interesting when used in harmony with floral notes such as rose because it has facets close to rose ketones.
Natural availability :

Apritone® is not available in its natural state.
Year of discovery :

1955
Other comments :

This product contains beta-damascone (a rose ketone). The rose ketones have an IFRA standard associated with them.
Price Range :

€€€
Stability :

Very unstable in stong acidic (detergents) and alkaline (liquid bleach) bases.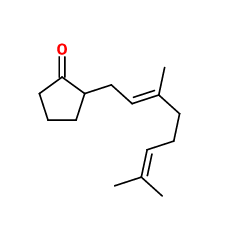 Crédits photo: ScenTree SAS
Molecular formula :

C15H24O

Molecular Weight :

220,35 g/mol

Density :

0,915

Flash Point :

139°C

Fusion Point :

Donnée indisponible.
Appearance :

Pale yellow liquid

Log P :

5,15

Boiling Point :

130°C

Detection Threshold :

Donnée indisponible.
Synthesis route :

Data not available.
Synthesis precursor :

Apritone® is not a precursor to the synthesis of another compound of olfactory interest.
Isomerism :

Apritone® has a double bond source of a diastereomer. Only its trans (E) isomer is used in perfumery.
EINECS number :

268-706-3

FEMA number :

3829

JECFA number :

1117

FLAVIS number :

07.257

Allergens :

This ingredient does not contain any allergen.

IFRA :

This ingredient is not restricted
To learn more about IFRA's standards : https://ifrafragrance.org/safe-use/library
ScenTree is solely responsible for the information provided here.
Do you sell any of the raw materials? Would you like to let our users know?
Send an email to fournisseurs@scentree.co to learn about our advertising opportunities.